Citizen Science Teaching Fellows are student leaders who provide key support during the lab rotation. Teaching Fellows work with faculty to communicate concepts, answer questions, and supervise first-year students as they conduct experiments. In addition, under the supervision of the laboratory coordinator, Teaching Fellows are responsible for the preparation of the teaching lab, active problem solving, and effective communication to ensure an engaging learning environment.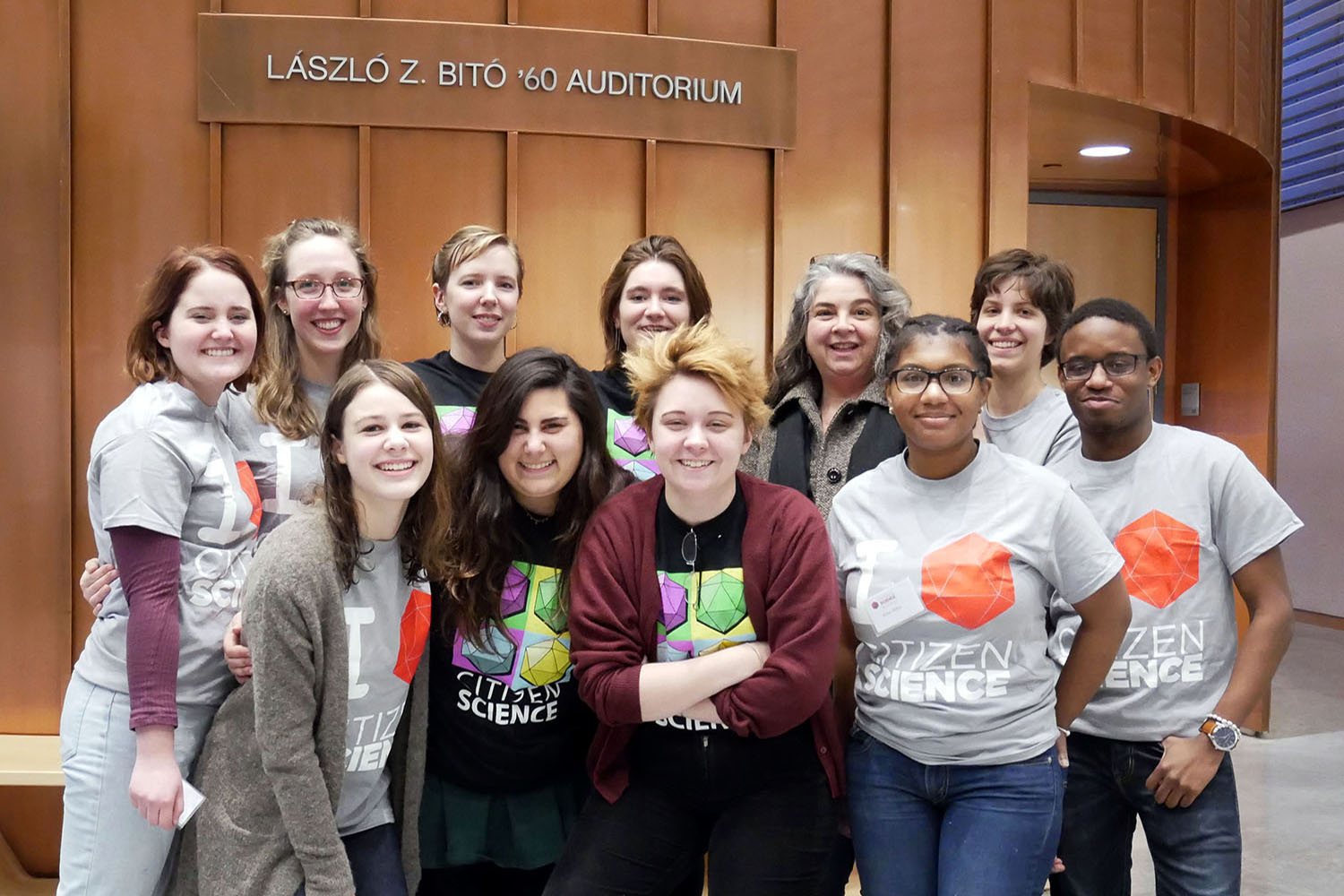 Teaching Fellows Program
Citizen Science aims to give all students the tools to be informed citizens when confronted with scientific information. Coming from a variety of majors, our Teaching Fellows are well positioned to work with first-year students whose academic backgrounds range widely. More than laboratory assistants, they are trained not only in the location and use of materials but also in the fundamentals of the experiments. Fellows often return in subsequent years, forming a close team invested in creating an exceptional experience for the first-year class.
Felicia Flores '22

Felicia Flores '22

My name is Felicia and I'm a sophomore at Bard College double majoring in mathematics and studio arts. I am very passionate about helping others explore their interests in an inspiring environment. I am the TLS Leader for the Bard Math Circle, the Girls Math Club, and the Creative and Analytical Math Program (CAMP) Coordinator. My time in Citizen Science reminded me of how all areas of study are interconnected. Everyone can understand science, and such understanding is necessary since scientific literacy, specifically with the topic of water, can help you defend something as personal as your health. In high school, I designed and conducted a two-year independent study where I utilized my love of logic and creativity, which are both strengths of mine that led me to my current majors. I am on Bard's Women's Varsity soccer team which also is telling of my excitement to problem solve and to persevere through challenging situations. I am looking forward to meeting you all and to help you discover how you already have all the makings of a scientist.

Benjamin Harris '22

Benjamin Harris '22

My name is Benjamin (he/him/his) and I'm a sophomore at Bard College majoring in biology with a specific interest in environmental science and chemistry. When I'm not in class I'm singing in the chamber choir and working as a CATS driver; I'm also an usher at the Fisher Center. I'm super excited to be able to be a Teaching Fellow for this coming year of Citizen Science! This program is in place to promote students' understanding of science that surrounds political and social decisions in their lives, something that should be seen as a responsibility. Though you're coming back earlier from break than you would probably like, the fun you can have in the dead of winter at Bard would surprise you! I look forward to meeting everyone for some fun science!

Silvie Lundgren '20

Silvie Lundgren '20

My name is Silvie and I am a senior double majoring in the Chemistry and Biochemistry Program and Russian and Eurasian Studies Program. I have worked as a chemistry teaching lab assistant and tutor, participated in biochemistry research at BSRI (Bard Summer Research Institute), and am a coleader of the Bard Chemistry Club. It is rewarding to work through problems together and help other people experience success in understanding concepts and strategies. There are always amazing new things to discover and connect, even in areas that may not be your main interest. I am truly excited to be a Citizen Science Teaching Fellow this year. Beyond my academic interests, I also enjoy singing, playing music, spending time with cats, reading, writing poetry, nature, rocks, and a few other probably obscure things. I can usually be found working on something or eating a snack. After Bard I aspire to become a doctor or medical researcher.

Andres Meraz '20

Andres Meraz '20

My name is Andrew and I am a senior in the Russian and Eurasian Studies Program. I transferred to Bard from a community college, so I did not participate in Citizen Science. In a sense, I will be just as new to the program as you will be! I am grateful to be a part of a program that promotes an interdisciplinary approach to learning. Though I specialize in Russian language and literature, I have benefited from taking courses in other departments. Among the courses I have taken are Physics I, Calculus I & II, Introduction to C++, Symbolic Logic, and others. My experience in fields outside of my own has only enriched my analytical and academic writing abilities. I am certain that even those of you who are not interested in pursuing majors in the sciences will complete the program with a greater degree of scientific literacy and the capability of thinking about your own specialties in a more nuanced and sophisticated way.

Ashley Nicolich '21

Ashley Nicolich '21

My name is Ashley and I'm a junior at Bard College majoring in biology. I am a commuter student who hails from the Red Hook area, and I am very excited to become more involved in college activities. It is a dream come true to be a part of the Citizen Science team. When I was going through my own Citizen Science experience in early 2018, I was fascinated with learning about our microbiome. However, I really loved trying to find effective ways to communicate science both educationally and on a community scale through the activities and workshops we completed. Communication is a necessary tool for the career path I am choosing since I wish to become a high school biology teacher through the MAT course here at Bard. As a Teaching Fellow, I will be able to gain experience in the teaching field, and hopefully help expose students to all of the useful, fun, and exciting aspects of science. I hope my passion for science will be spread to others and we can all share our knowledge with one another. In a couple of semesters it could be you in the next group of Teaching Fellows!

Anna Pekovich '22

Anna Pekovich '22

My name is Anna and I'm a sophomore at Bard College majoring in biology. Outside of the classroom, I lead the Ceramics Club on campus and I also work as a farm assistant on the Bard Farm. I'm so excited to be a part of the Citizen Science team this year. When I was in the Citizen Science program, I loved learning about water science and microbiology. I gained new laboratory skills and learned how to effectively communicate scientific information to others. Although I'm planning on focusing on wildlife biology in the future, the Citizen Science curriculum introduced me to water science and got me thinking more in-depth about the microbial world around me. I'm eager to work in the lab with everyone and have fun learning about science!

Shannon Ryan '21

Shannon Ryan '21

My name is Shannon and I'm a junior at Bard College majoring in environmental and urban studies with a focus area in environmental science. I plan on earning my master's degree in the next few years through Bard's CEP 4+1 Climate Science and Policy Program. I spend a lot of my time studying at the library, but I also enjoy knitting, painting, and gardening, and I volunteer at the Bard Water Lab. I spent my freshman year at Bard College Berlin and therefore took Citizen Science last year. I think the program does a great job of connecting science with important political issues that we all care about. I currently don't have any clear plans after graduating from Bard, though I am very interested in green technology, ecological engineering, and environmental justice. I'm really excited to help teach students the lab procedures used in the science necessary to solve many of the environmental and social issues we face today. Can't wait to meet you!

Patricia Sicat '20

Patricia Sicat '20

captain of the rugby team, a publicity intern at SPARC, and also a lifeguard. I enjoyed Citizen Science my freshman year, especially the conversations that arose from the gathering of our diverse student body. This past summer, my lab researched bacteria that produced polymers in order to progress knowledge on biodegradable plastics. As a Teaching Fellow, I am looking forward to the interdisciplinary aspects of Citizen Science.
2019 Fellows

2019 Fellows

Misbah Awan '20
Bruno Di Nucci '20
Julia Gibson '20
Evin Guinan '19
Gabrielle Hartman '21
Elizabeth Thomas '20
Lindsey Williams '19

2018 Fellows

2018 Fellows

Wallis Boram '20
Phoebe Brand '20
Christina Duncan '19
Adam Fallah '20
Estrella Frankenfeld '20
Lucy Fulkerson '20
Ashley Jones '20
Rachel Mendoza '19

2017 Fellows

2017 Fellows

Eleanor Broughton '18
Celia Faux '19
Tia Lee '19
Milan Miller '18
Abigail Sullivan '19
Mark Williams '18
Kara Kuhn '18
Sadie Marvel '18
Clarence Bronte '18

2016 Fellows

2016 Fellows

Shila Bayor '18
Lillian Brennessel '18
Clarence Bronte '18
Haley Brown '18
Rock Delliquanti '16
Deanna DePietro '16
Amelia Leeya Goldstein '17
Kara Kuhn '18
Sadie Marvel '18
Sydney Pindling '17
Leah Silverberg '16
Andrea Szegedy-Maszak '16
Darren Tirto '18
Clark Travaglini '16
Stephanie Walker '17
Sage Warner '17
Bradley Whitaker '18

2015 Fellows

2015 Fellows

Mythili Ananthasayan '15
Griffin Burke '15
Elisa Caffrey '15
Brandon Chen '15
Deanna DePietro '16
Leah Silverberg '16
Bradley Whitaker '18
Alexandra Batzdorf '16
Tayler Butler '17
Quanita Kendrick '17
Abiba Salahou '17
Mallory Thompson
Javell Watson
Bethany Zulick '16
Rock Delliquanti '16
Andrea Szegedy-Maszak '16
Clark Travaglini '16
Dylan Dahan '15

2014 Fellows

2014 Fellows

Mythili Ananthasayan'15
Griffin Burke '15
Elisa Caffrey '15
Brandon Chen '15
Dylan Dahan '15
Rock Delliquanti '16
Ayda Gonzalez '16
Erin Kelly '15
Sarah Kiskadden-Bechtel '15
Mildred Kissai '15
Bill Nguyen '15
Nathaniel Oh '16
Jonathan von Reusner '16
Alexandra Smith '15
Andrea Szegedy-Maszak '16
Clark Travaglini '16

2013 Fellows

2013 Fellows

Mythili Ananthasayan '15
Griffin Burke '15
Elisa Caffrey '15
Brandon Chen '15
Erin Kelly '15
Bill Nguyen '15
Alexandra Smith '15
Lily Mastrodimos '15
Molly North '14
Moraima Ortiz '14
Devon Scarlett '14
Min Shinn '14
Emma Troisi '14
Contact Us
Citizen Science
Bard College, P.O. Box 5000
Annandale-on-Hudson, NY 12504
citizenscience@bard.edu
| 845-758-7490
Subscribe to our mailing list.