Citizen Science Teaching Fellows are student leaders who provide key support during the lab rotation. Teaching Fellows work with faculty to communicate concepts, answer questions, and supervise first-year students as they conduct experiments. In addition, under the supervision of the laboratory coordinator, Teaching Fellows are responsible for the preparation of the teaching lab, active problem solving, and effective communication to ensure an engaging learning environment.

2021 Citizen Science Teaching Fellows
Nyah Alexis '23

Nyah Alexis '23

My name is Nyah (she/her) and I'm a sophomore Biology major (possibly pre-health). I'm a member of the Black Student Organization, Caribbean Student Association, and the Bard Science Journal. I'm thrilled to become a Teaching Fellow and be there to guide everyone through the Citizen Science process. Though the break is shorter, Citizen Science is a great opportunity to meet new people and learn plenty of fascinating things about the world around you. Many of you won't be STEM majors so this will also be an exciting way to interact with science from a fresh and engaging lens. I can't wait to see everyone in January!

Lilah Blaker '23

Lilah Blaker '23

My name is Lilah, and I'm a sophomore at Bard College majoring in Biology. I think Citizen Science is a great program to get students from all of Bard's various disciplines involved in and educated on the important aspects of the scientific community which impact all of our lives. I enjoyed the Citizen Science program my freshman year in the Community Action strand, learning about the intersections of science with social and political issues, and I look forward to being a teaching fellow this year!


Mary Douglas '23


Mary Douglas '23

My name is Mary and I am a sophomore intending to double major in Music and Biology. When I am not in the library or the practice rooms, I play piano in a piano trio and participate in the local Sunrise Movement chapter. This year I also started a Themed Living Community for German language learners. Citizen Science was one of my favorite parts of my first year, and I am very excited to be a part of the Teaching Fellows team. As a Biology major, I enjoyed learning about microbiology and bacteria, topics that I previously knew little about. But aside from the aspects of the program that fed my love of Biology, I came away from Citizen Science with a completely new understanding of science and my agency in interpreting the world. I am sure that everyone, not just science majors will find something new to take away from Citizen Science. Even though you have to come back early, I hope you take the opportunity to explore new ideas that are intriguing to you. I look forward to meeting and working with you!

Felicia Flores '22

Felicia Flores '22

My name is Felicia Flores (she/her/hers) and I am a junior at Bard College double majoring in Mathematics and Studio Arts. This will be my second year holding this position. I am so elated to have the privilege to, once again, help incoming freshmen have a Citizen Science experience that is both empowering and humbling. As the TLS Leader for the Bard Math Circle and a Math Study Room Tutor, I am very passionate about helping others explore their interests in an inspiring environment. Even though I have ended up not majoring in a science field, Citizen Science reminded me of how interconnected each area of study is. In high school, I designed and conducted a two year independent study where I utilized my love of logic and creativity which are both strengths of mine that have led me to my current majors. Science is able to be understood by everyone and such understanding is necessary since scientific literacy, specifically with the topic of water, can help you defend something as personal as your health. In addition, I am on Bard's Women's Varsity soccer team which also is telling of my excitement to problem solve and to persevere through challenging situations. I am looking forward to meeting you all and to help you discover how you already have all the makings of a scientist.

Macy Jenks '23

Macy Jenks '23

My name is Macy, and I am a sophomore planning on majoring in Biology with a concentration in Asian Studies. I am passionate about science education and spent last semester teaching elementary and middle school students science with the CCE both in person and through videos. My main interest within Biology is genetics, but my time in Citizen Science last year opened my eyes to how fascinating microbiology can be. I think Citizen Science does a great job of bringing interdisciplinary study to science, which is often a subject area viewed as restrictive. No matter what you intend on studying, I hope we can help you gain a better understanding through this interdisciplinary lens, as well as help you improve your overall science literacy.

Ligia Monterroza '23

Ligia Monterroza '23

My name is Ligia, and I'm a sophomore from El Salvador. I'm an intended Biochemistry major and a pre-med student. I volunteer with Bard EMS, and I'm passionate about serving my community. As an example, during Citizen Science of my first year, my friends and I organized a fund-raiser to help the Australian wildfires. I have to admit that if I'm not studying chemistry and trying to solve an acid/base problem, you will probably find me trying to learn more about social justice since science is not the only thing that I hold dear to my heart but also human rights. I hope to explore more about it through my years at Bard College.

Nailea (Lea) Rodriguez '22

Nailea (Lea) Rodriguez '22

My name is Lea, I am a junior majoring in Biology with a focus in global public health. I am the PC of Tewksbury, and I am part of the planned parenthood chapter, and also in the pre-health club. During my free time I like to read and cook. I look forward to meeting you all in the lab!

Quincy Ross '23

Quincy Ross '23

My name is Quincy (He/Him/His). I am a sophomore Physics major. Bard is actually the third college I've attended. After two transfers I finally found one that I liked. I do cross county, volleyball, and track and field for the Bard Raptors. I love running and looking at all the different flowers and plants around campus. I like painting and love making sculptures. I take care of the zebra fish that are used for research and love working in the lab. I'm really excited to show other people how exciting research can be.

Grace Sanger-Johnson '23

Grace Sanger-Johnson '23

My name is Grace and I am a sophomore majoring in Physics. Beyond the classroom, I am an Old Gym head, as well as a member of the women's rugby team. I have also participated in Physics Research with Bard Summer Research Institute (BSRI) and worked at the Fisher Center in the lighting department. Although I am a Physics major, through Citizen Science I also discovered my interest where biology and physics intersect, and I hope to explore that more in the future. One of my favorite things about Bard is how they encourage the exploration of curiosity and I hope that everyone comes out with the realization that they are capable of participating in science, as well as recognition of the social and political importance of understanding the science around them.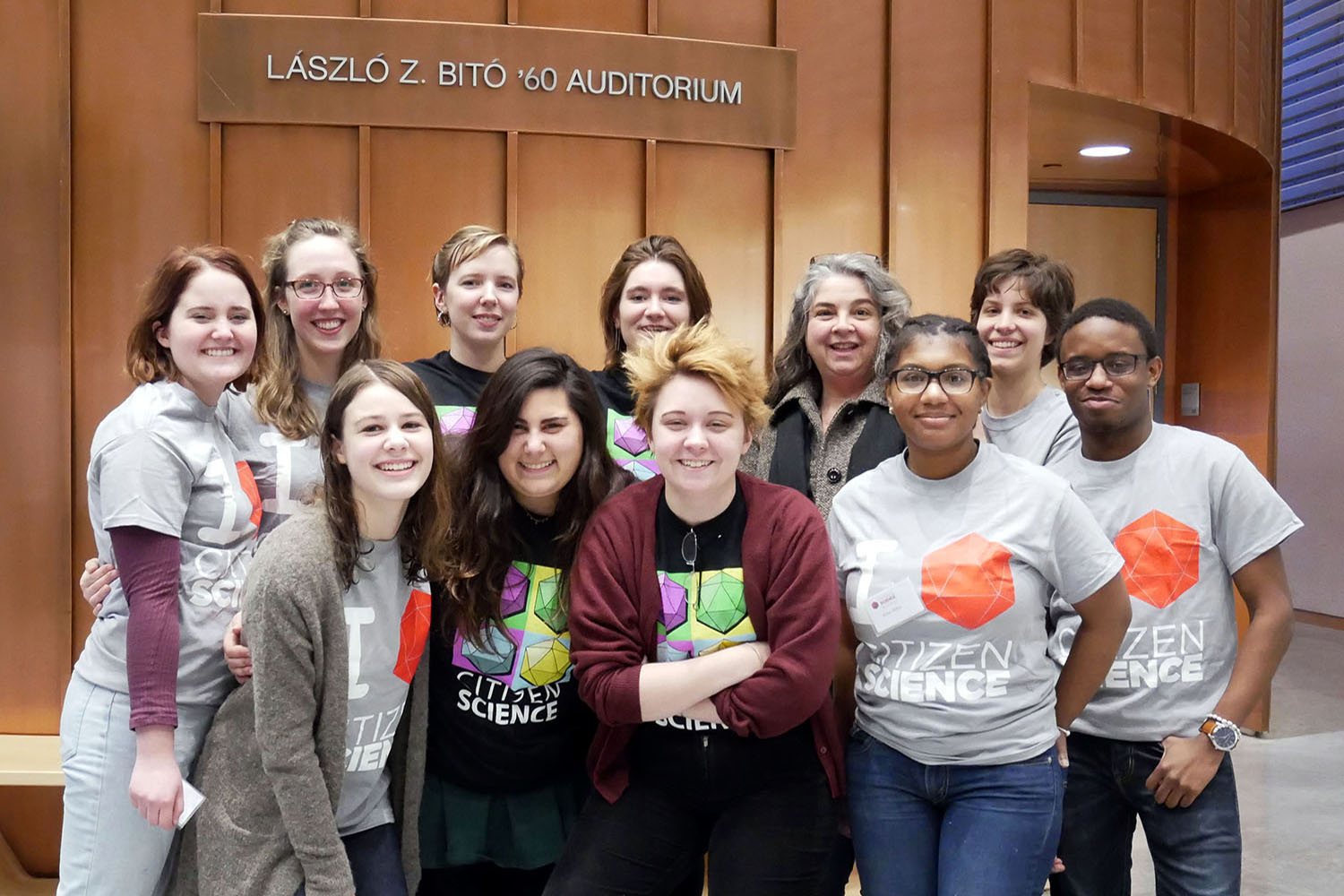 Teaching Fellows Program
Citizen Science aims to give all students the tools to be informed citizens when confronted with scientific information. Coming from a variety of majors, our Teaching Fellows are well positioned to work with first-year students whose academic backgrounds range widely. More than laboratory assistants, they are trained not only in the location and use of materials but also in the fundamentals of the experiments. Fellows often return in subsequent years, forming a close team invested in creating an exceptional experience for the first-year class.
Past Teaching Fellows
2020 Fellows

2020 Fellows


Felicia Flores '22
Benjamin Harris '22
Silvie Lundgren '20
Andres Meraz '20
Ashley Nicholich '21
Anna Pekovich '22
Shannon Ryan '21
Patricia Sicat '20

2019 Fellows

2019 Fellows


Misbah Awan '20
Bruno Di Nucci '20
Julia Gibson '20
Evin Guinan '19
Gabrielle Hartman '21
Elizabeth Thomas '20
Lindsey Williams '19

2018 Fellows

2018 Fellows


Wallis Boram '20
Phoebe Brand '20
Christina Duncan '19
Adam Fallah '20
Estrella Frankenfeld '20
Lucy Fulkerson '20
Ashley Jones '20
Rachel Mendoza '19

2017 Fellows

2017 Fellows


Eleanor Broughton '18
Celia Faux '19
Tia Lee '19
Milan Miller '18
Abigail Sullivan '19
Mark Williams '18
Kara Kuhn '18
Sadie Marvel '18
Clarence Bronte '18

2016 Fellows

2016 Fellows


Shila Bayor '18
Lillian Brennessel '18
Clarence Bronte '18
Haley Brown '18
Rock Delliquanti '16
Deanna DePietro '16
Amelia Leeya Goldstein '17
Kara Kuhn '18
Sadie Marvel '18
Sydney Pindling '17
Leah Silverberg '16
Andrea Szegedy-Maszak '16
Darren Tirto '18
Clark Travaglini '16
Stephanie Walker '17
Sage Warner '17
Bradley Whitaker '18

2015 Fellows

2015 Fellows


Mythili Ananthasayan '15
Griffin Burke '15
Elisa Caffrey '15
Brandon Chen '15
Deanna DePietro '16
Leah Silverberg '16
Bradley Whitaker '18
Alexandra Batzdorf '16
Tayler Butler '17
Quanita Kendrick '17
Abiba Salahou '17
Mallory Thompson
Javell Watson
Bethany Zulick '16
Rock Delliquanti '16
Andrea Szegedy-Maszak '16
Clark Travaglini '16
Dylan Dahan '15

2014 Fellows

2014 Fellows


Mythili Ananthasayan'15
Griffin Burke '15
Elisa Caffrey '15
Brandon Chen '15
Dylan Dahan '15
Rock Delliquanti '16
Ayda Gonzalez '16
Erin Kelly '15
Sarah Kiskadden-Bechtel '15
Mildred Kissai '15
Bill Nguyen '15
Nathaniel Oh '16
Jonathan von Reusner '16
Alexandra Smith '15
Andrea Szegedy-Maszak '16
Clark Travaglini '16

2013 Fellows

2013 Fellows


Mythili Ananthasayan '15
Griffin Burke '15
Elisa Caffrey '15
Brandon Chen '15
Erin Kelly '15
Bill Nguyen '15
Alexandra Smith '15
Lily Mastrodimos '15
Molly North '14
Moraima Ortiz '14
Devon Scarlett '14
Min Shinn '14
Emma Troisi '14
Contact Us
Citizen Science
Bard College, P.O. Box 5000
Annandale-on-Hudson, NY 12504
citizenscience@bard.edu
| 845-758-7490
Subscribe to our mailing list.